A Palm Springs insider unlocks the history of the town's mid-century modernism roots, and what's happening today. Here are our favorite discoveries about Palm Springs Modernism Architecture.
Little did I know the term Modernism would be so much a part of my life when I moved to Palm Springs in California's Coachella Valley eight years ago. Now, this term is part of my vocabulary and an integral part of my daily life. Here are some of my favorite discoveries about Palm Springs Modernism Architecture.
Discovering Palm Springs
The influx of visitors from Los Angeles started in the 50s and 60s. One of the reasons—movie stars could only travel 100 miles from the studios on weekends. Rumors of sunshine and dry desert air sounded like it would be a welcome change from the cooler climate in Los Angeles caused by its proximity to the Pacific Ocean.
A local photographer, Frank Bogert, was part of the social scene. That gave him access to events where the movie stars were frolicking at places like the El Mirador Hotel, the Palm Springs Racquet Club, and the Palm Springs Tennis Club.
As is common in the travel industry, Wander With Wonder sometimes receives complimentary products and services. However, you can always count on Wander With Wonder to report with honesty and integrity on those places we believe offer wonderful opportunities for our readers. Wander earns income from ads and affiliate links on our site. Some of those links are for Amazon. As an Amazon Associate, Wander earns from qualifying purchases. None of these practices influence our reporting, but we believe in full disclosure. For further information please visit our
legal page
.
He sent those photos to the East Coast, where residents longing to get out of the cold started noticing them. The photographs showed men and women sitting poolside or playing golf under the cloudless sky.
The fashions were decidedly different than East Coast residents had seen in the past. Fashion designers in Los Angeles saw there was a market for resort wear. Thus, they started dressing the rich and famous who headed to Palm Springs regularly. Designers used the movie stars as billboards for their designs.
Architects Saw an Opportunity
Word spread quickly regarding the influx of people to this then-small desert community. People started thinking about building second homes. At the same time, architects were getting increasingly frustrated with trying to acquire Los Angeles buildings permits and complying with restrictions on their design efforts.
Architects wanted to design buildings using unconventional materials, such as metal, to form new rooftop angles. They wanted windows to take advantage of the spectacular mountain views. It was important to incorporate rocks and plants in the design elements. Not only did they see an opportunity, but they also aggressively went after contracts, giving rise to Palm Springs Modernism architecture.
Exterior Design of Palm Springs Modernism Architecture
Architect Richard Neutra built the Kaufman House with a flat steel roof, glass, reinforced concrete, and stone. Photographer Slim Aarons made this home famous by capturing an afternoon around the pool called "Poolside Gossip." His photo helped feed the frenzies about the Palm Springs lifestyle.
Individuals bought land and hired Los Angeles architects, such as Albert Frey, John Lautner, and Donald Wexler, who gladly accepted the projects to experiment with steel, glass, and reinforced concrete designs. The Palm Springs Modernism Architecture style flourished during the 1950s and 1960s.
Interior Designs of Palm Springs Modernism Architecture
Simplicity and color became the mantra for the interiors of these exquisitely designed homes. Gone were the cupboards to house a plethora of curiosities. Instead, open shelves with strategically placed lighting showcased owners' valued objects.
Kitchens no longer had white appliances; instead, avocado, blue, leaning toward turquoise, and pink was the rage. It was not unusual to find kitchen cupboards in bright yellow or even orange.
With entire walls made of glass, the landscape surrounding the homes became of equal importance as the home design itself. Architects adjusted the juxtaposition of the homes to take a full view of the majestic San Jacinto mountains. They often worked with a landscape designer to ensure the flora around the house enhanced the exterior design elements.
Original Bedroom Design Intact
On a personal note, this is my bedroom when I stay in a beautiful home where I routinely house and dog sit. This home is in pristine 1960's condition, with the yellow, cream, and orange theme carried out throughout the entire home and located on one of our prestigious golf courses.
Palm Springs Modernism Architecture Today
The movies stars of a bygone era have passed away or moved to the south end of Coachella Valley. The houses in Palm Springs are built right on the street and offer photographers easy access to residents' comings and goings. Priscilla Presley recently said, "We moved from our first home in Palm Springs because photographers watched our every move."
Recognizing the significance of owning homes designed by world-famous architects, new owners of these stunning homes chose to retain the structures as initially created. It Is now a status symbol in Palm Springs to be an owner of one of these homes.
If the interior has been altered, owners go through great lengths to find the initial architectural drawings and spend thousands of dollars bringing it back to the architect's original vision. For example, the newly purchased "Bob Hope House" owner used the original drawings to rebuild walls with specified materials in the original John Lautner design.
Owners of these homes seek out objects that served a practical use in the 50s and 60s. Ashtrays in blown glass or bright colors sit on the glass and metal end tables. During this period, the space race to the moon was going strong, so Sputnik-shaped hanging lights from the ceiling cast shadows on the gold and orange shag rugs. Vying for attention are the handblown glass vases—minus flowers—strategically placed near historical photographs of stars, such as Marilyn Monroe, who spent time in Palm Springs.
Celebrating Palm Springs Modernism Architecture
Palm Springs has become a mecca for people interested in the architectural design of Modernism. One hundred thousand plus people come to tour homes and significant buildings and hear lectures by still living architects during Modernism Week. This event includes approximately 340 events during the 11 days.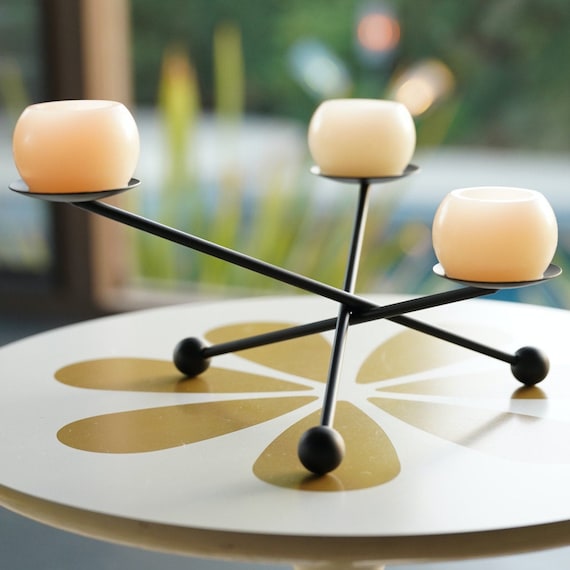 Sputnik Ball Modern Mid Century Style Candle Holder or
buy from: Etsy
Visitors also seek out objects for their homes at local Palm Springs consignment shops and resale shops. In the
Uptown Design District
, numerous décor and furniture stores sell replicas of items that furnished the original 1950s and 1960s homes.
Experience Palm Springs Modernism Architecture in a Hotel
There are numerous hotels throughout the Great Palm Springs area that let you experience that Modernism Architecture. Here are a few of my favorites.
The Cole
Located in Northern Palm Springs, the recently renovated The Cole Hotel reflects the Modernism theme. It is considered one of the most technology-equipped hotels in the region. Weary visitors welcome its contactless reservation and check-in after traveling to the desert. All information you need, such as WiFi, appliance operations, and hours for cocktails, is easily accessible on your phone through an app.
When you walk through the gate, the bright orange and turquoise umbrellas beckon you to slow down with a nice cool beverage and lounge around the pool. When you head to your room, you immediately know you have come to the right place to experience the Modernism period lifestyle.
The Amin Casa
Formerly the home of Gloria Swanson—considered one of the most photographed women globally—The Amin Casa is now a 10-room boutique hotel. If you didn't know better, you would think you had stepped into a movie set. All furnishings reflect the Modernism décor of the 1950s and 1960s. The giveaway is the historic photo on the lobby wall, showing the house with no surrounding buildings.
A walk through the lobby into the courtyard reveals the former guest house.  It has been enlarged and is now a two-bedroom suite, with the kitchen retaining its original knotty pine wood paneling. Step out the door, and the heated pool urges you to sit down and relax while the three-tier fountain lulls you into a relaxing nap.
The Alcazar
The bustling town of Palm Springs is an easy walk from The Alcazar. However, the hotel is so quiet you would think you were in some quiet suburb. Once you arrive and park your car, you walk through the entrance and find yourself in a courtyard gracefully covered with Palo Verdes trees that filter the bright sunlight.
Amenities abound at this hotel, including free parking, juice, coffee, and pastries readily available throughout the day. Bicycles are onsite and waiting to take you on a ride through our nearby, easily navigatable bike paths. Two restaurants are on the premises, so you do not have to go anywhere if you decide to simply spend your time relaxing. However, the large pool with luscious bath towels is there waiting for you to take a dip under our cloudless skies.
Articles Related to Palm Springs Modernism Architecture
Experience Palm Springs Modernism Architecture
With 350 days of sunshine, proximity to Los Angeles, San Diego, and an International Airport, access to Palm Springs and its desert environment remains an attractive vacation destination. With more than 70 small boutique hotels, thousands of visitors, architectural scholars, and people dreaming of designing their own homes in Palm Springs Modernism Architecture style coming to explore this area, it is apparent that Palm Springs is the place to explore the past and plan for the future.
Palm Springs Modernism Architecture