The vast Navajo Nation Reservation covers more than 25,000 miles in New Mexico, Utah, Colorado, and Arizona. The Navajo Nation Parks are on some of the most scenic lands in the Southwest and are popular places to visit. If you want to experience iconic southwestern scenery, this is the place to go. Here are some key things to know when visiting Navajo Nation Parks and parks on Navajo Reservation land.
Parks on the Navajo Nation
Many are not aware that famous sites in the Southwest like Monument Valley and Antelope Canyon are Navajo Nation Tribal Parks and are not part of the National Park system. Because of this, the tribal parks will seem different. You may have to go with a Navajo guide to visit the park and closures will be determined by Navajo Nation laws. The Navajo parks do not recognize your National Park passes. However, the National Park Service does run some parks, such as Canyon de Chelly, even though they are on Navajo Nation Land. At these parks, you can use your National Park passes, but Navajo Nation rules apply.
The Navajo Nation is proud to announce that their population is 70% vaccinated. As of July 8, 2021, Navajo Nation Parks are permitted to start opening with some limitations and restrictions.The current mask mandate continues. See the Navajo Nation Parks website for most current information and date of opening for individual parks. Check parks and tour company websites for the most current information to help you plan your trip.
As is common in the travel industry, the writer was provided with accommodations, meals, and tours for the purpose of review. While it has not influenced this review, we believe in full disclosure of all potential conflicts of interest. Wander With Wonder contains affiliate links. If you click through and make a purchase, we may earn a commission, at no additional cost to you. We thank you for your help — it is what keeps Wander With Wonder bringing you great content.
Monument Valley Tribal Park
Monument Valley, one of the most spectacular sites in the southwestern United States, is located in northeast Arizona although the entrance is actually in Utah. There is only one main road through Monument Valley—US 163—which links Kayenta, AZ with US 191 in Utah. Monument Valley is about a 6-hour drive from Phoenix and less than 2 hours from Lake Powell.
Many movies were filmed in Monument Valley so the formations will likely look familiar to you. The valley was a favorite of producer John Ford. If you are lucky, you'll get to take a photo of the Navajo rider on his horse out on Ford's Point.
Touring Monument Valley
You can take a day tour or even stay overnight in a hogan or camp at Monument Valley. But most of this has to be pre-arranged and fees must be paid. When you arrive at the parking lot at the Monument Valley Visitors Center you will see all sorts of tour vehicles – jeeps, vans, and trucks. You also will see a small wood building where you can sign up for horseback tours. There is a fee to enter the Navajo Nation Parks and an additional fee for a Backcountry Permit if you wish to go hiking. Fees and permits can be paid online.
You can (although I wouldn't recommend it) drive your own car into parts of the valley. Take a tour. You will learn so much from the guide and will have a chance to talk with a Navajo person, most likely from the Valley. You will have choices so decide how long you want to stay and what you want to see. Then talk to the tour operators and see which tour meets your needs. Simpson's, for example, has a website so you can get an idea of what types of tours are offered.
We chose a day tour in an enclosed van (less dust) that included a marvelous steak and frybread cook-out and were entertained by a Native dancer in colorful regalia. We saw all the key sights, took tons of pictures, and visited a Navajo weaver in a hogan.
Staying at Monument Valley
You can stay at The View Hotel right by the Visitor Center and café, which is Navajo-owned and overlooks Monument Valley.
Another popular place to stay is Goulding's Lodge. Goulding's is decorated with an old west theme, has RV and camping, and tours that leave from its front door. Enjoy southwest and Navajo cuisine in the Stagecoach Restaurant.
The important thing to remember when visiting Monument Valley is that Navajo families still live there, graze their cattle, and raise crops. Many have side businesses selling jewelry or gift items. Be sure and look for the tables and support these families.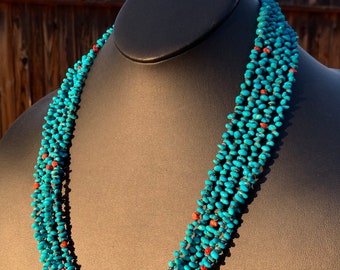 Native American Pottery and Jewelry by SparksPotteryJewelry
from: Etsy
Canyon de Chelly National Monument
Canyon de Chelly, on Navajo tribal land, is a little different. It is a National Monument run by the National Park Service, not the Navajo Nation Parks.
Touring Canyon de Chelly
Although the National Park Service operates Canyon de Chelly National Monument, you do need a Navajo guide if you go down into this beautiful canyon, because Navajo families live there and hold grazing rights. You'll encounter horses and cattle as you travel in the canyon. We rode on an open vehicle with high, heavily treaded, tires to keep us from getting stuck in wet sand or the streams that wound their way through the canyon. It was great for photographers.
For nearly 5,000 years, people have lived in these canyons. When you visit, you'll see cliff dwellings, pictographs, and petroglyphs made by the ancestors. If you do not want to tour the canyon with a guide, you can take a car ride along the rim and stop at pull-outs to see sights from afar. Be sure and see Spider-Woman Rock. Spider-Woman figures prominently in Native American lore from many different tribes.
Staying at Canyon de Chelly National Monument
If you can, stay at the historic Thunderbird Lodge, the only place to stay right in Canyon de Chelly. The lodge sits on the site of a trading post built in 1896, and its cafeteria-type restaurant is located in the trading post's original building. There is even a vault-like room in the dining area that once was a jail! Check out the current Trading Post, pick up a DVD about Canyon de Chelly or a Navajo mystery paperback by Tony Hillerman or his daughter Anne Hillerman.
While the lodging is simple, you'll have the unique opportunity to walk outside in the evening and look up at the stars and enjoy the quiet of the canyon.
Cameron Trading Post
We were headed to Monument Valley one day and stopped at the historic Cameron Trading Post on Hwy 89 for one of their famous Navajo Tacos. But for many, this is an overnight stop. The Cameron Trading Post, which dates back to 1916, also offers motel rooms and an RV park.
We were hungry for that Navajo Taco (sometimes called a Hopi Taco or Indian Taco, etc.) so bypassed the gift shop and went into the dining room. Navajo Tacos are like a salad with ground beef on a piece of soft, hand-made frybread topped with some salsa and cheese. While I'm sure the original indigenous people of the area did not grow wheat, these flour frybread tacos have become a traditional folk food and are now associated with the Native Americans of the southwestern U.S.
The dining room with its huge river rock fireplace, antique cabinetry, and classic Navajo rugs decorating the walls is a southwestern classic.
Little Colorado Gorge Tribal Park
After our filling (and delicious) lunch and a bit of souvenir shopping at Cameron Trading Post, we decided to take a side trip up Hwy 64 and visit a small Navajo Nation Park for some views of the Little Colorado River.
The Little Colorado River Tribal Park has two viewpoints that are within walking distance from the parking lot. There is no charge to check out the viewpoints to look down into the Little Colorado Gorge. You'll see picnic ramadas and vendors selling jewelry. At this point, the Little Colorado River passes through the scenic gorge to join the large Colorado River which will flow through the Grand Canyon. We could have continued on through Hwy 64 following the river to the Grand Canyon National Park but we were only two hours away from Kayenta and the entrance to Monument Valley, our destination.
Antelope Canyon at Lake Powell Navajo Tribal Park
People from all over the world come to Page, Arizona to see the beautiful Antelope Canyon located on Navajo Nation land. Slot canyons, like Antelope Canyon near Page, are surprising crevasses in rock with walls marked by the passage of water over time, a favorite subject for photographers. You can take guided jeep and photo tours from Page. Due to the popularity of the tours, you need to make advance reservations. Since this is a Navajo Nation Park, the tours are led by Navajo guides.
We took the Native-owned tour with Antelope Canyon Tours at the end of the day. I was concerned that there wouldn't be enough light in the canyon to get good photographs, but I was soon proven wrong. Arden Redshirt, our Navajo guide, not only shared with us the story of the canyon, he made frequent stops as we explored the narrow passageway and taught us how to get spectacular photos using our iPhones.
He then surprised us with a little hike through another close-by side canyon to end our tour just as the sun started setting and the sky glowed with brilliant stripes of yellows and oranges.
When You Go to the Navajo Nation Parks
Four Corners Monument—a popular stop where you can step into four states at once—is also under the umbrella of the Navajo Nation Tribal Parks. There are rules set by the Navajo Nation and whether you are in a tribal park or on a National Park or Monument on Navajo land, you need to look for the rules and follow them. For example:
You are not allowed to operate drones in Navajo Nation Parks
Alcohol is illegal on the Navajo Indian reservation
Firearms are not permitted in the Navajo Nation
Stay on marked routes for visitors
Ask before photographing a person, home, or ranch
Follow Covid rules as set by the Navajo Nation, not by the state where you are traveling
Simply read the signs as you travel and you'll be fine.
There are also courtesies to extend. It is important to show respect, especially to the elders, as you visit the Navajo homeland. The Navajo ask that you not climb on rock formations, or do anything to mar these places that have spiritual significance. Respect the land and leave nothing behind. You are the visitor and are warmly welcomed as long as you follow the rules. As you enjoy your southwestern road trip to the Navajo Nation Parks, have a look at other places to see in the Southwest U.S.