When people think of visiting Jamaica, resorts, beaches, and pools are usually top of mind. But the capital city of Kingston makes for a fascinating urban stopover. If you want to learn about life in a modern Caribbean country outside the resorts, tack on a couple of nights in Kingston. Here are a few things I did on a weekend spent in Kingston Jamaica.
Bob Marley Museum
If you went to school at the University of Santa Cruz like I did, it's easy to dismiss Bob Marley as the soundtrack for a hippie lifestyle. Visiting Bob Marley's home, now the Bob Marley Museum,  gave me a different view of this figure who was as politically important as he was in the music world.
Our young tour guide, an enthusiastic fan who frequently broke into bursts of Bob Marley songs, showed us Marley's 36-track analog mixing board, his gold records, and the bullet holes where the music legend was shot in the arm during an assassination attempt.


As is common in the travel industry, Wander With Wonder sometimes receives complimentary products and services. Wander also earns income from ads and affiliate links on our site. Some of those links are for Amazon. As an Amazon Associate, Wander earns from qualifying purchases. None of these practices influence our reporting, but we believe in full disclosure. If you click an ad or affiliate link on our site and make a purchase, we may earn a commission at no additional cost to you. We thank you for your help - it is what keeps Wander bringing you great content. For further information please visit our
legal page
.
We climbed the wooden staircase that Marley used as part of his exercise regimen, leaping up three steps at a time in order to stay fit. After the tour, visitors stop for smoothies in the One Love Café.
Fort Clarence Beach
About half an hour from Kingston Jamaica is the place where locals go, Fort Clarence Beach. People play with their kids in the turquoise sea, sit under the many shade trees and eat whole fried fish with scotch bonnet pepper sauce from the little fish shacks along the beach. The water is lovely. I went on a Sunday afternoon and the place was full of families enjoying the weekend.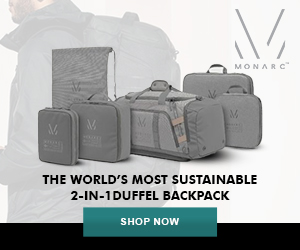 Emancipation Park
Emancipation Park is a six-acre green space that commemorates the end of slavery. It's known for Redemption Song, a bronze sculpture by Jamaican artist Laura Facey-Cooper that depicts a nude couple looking skyward. According to an article in The Guardian, controversy swirls around the statue… "according to the statue's critics the artist is too light-skinned, the male figure is too generously endowed, and both are, well, too naked. "
I stayed at the Jamaica Pegasus Hotel, which is right across from Emancipation Park. I got up early one morning to join the many locals who exercise on the park's 400-meter track lined with tropical plants. Many people get out around six before the sun starts blazing.
Afya Yoga Studio

I dropped in for the Saturday morning yin yoga class at Afya Yoga, which is set in a garden on a quiet street. It's hard to imagine a more pleasant start to a morning than stretching under ceiling fans, the smell of peppermint aromatherapy oils, and burning sage wafting through the air.
Owner Sonita Morin Abrahams opened the studio in 2003. "I wanted to be in a place to enjoy nature," she says of the open-air garden theme. Afya serves many of Kingston's professional women who need to unwind from stressful jobs. The complex also has an onsite spa offering massage and Reiki, and some rooms available for rent. "I envision this place being a healing village," Abrahams says.


Go for a Run in Kingston Jamaica

If you time it just right, you can run in the annual Capital City Run in March, or join in another race. The Capital City Run passes by Kingston's highlights, including the Devon House—once the home of George Stiebel, Jamaica's first black millionaire, the Bob Marley Museum, and masses of pink and orange bougainvillea everywhere. The city's many running clubs are out in matching T-shirts, some with helpful motivational messages (Don't tell me you can't!). The race ends in a big party at Emancipation Park. Walkers are welcome to participate, and everybody helps raise money for education, homeless shelters, and other local causes.
If You Go to Kingston Jamaica

If you want to see the urban working side of this Caribbean island, fly into Kingston Jamaica and spend a couple of days exploring. You'll get a more well-rounded view of Jamaica than you will from only visiting its resorts. For more ideas about traveling in Jamaica, see these ideas from Wander writers.
---
Note: As is common in the travel industry, the writer was provided with accommodations, meals, tours, and other compensation for the purpose of review. While it has not influenced this review, the writer believes in full disclosure of all potential conflicts of interest.