Those who wander—whether for work or for pleasure—might be difficult to shop for this holiday season. Never fear. I have some suggestions for gifts for every budget. Here are some of my favorite gifts for travelers.
Gifts Under $25
Just because you have a lower budget, it doesn't mean your gifts should be less meaningful. Here are some of my favorite gifts under $25 for travelers.
Swept Away by Wanderlust Travel Journal
Swept Away by Wanderlust is a coffee-table-style journal that inspires you to dream and travel—and captures it in the pages of a book you can keep forever. I love the binding on this book. It is made to lay flat but feels a bit rustic, but classic. The lovely journal is filled with photos, inspiration, and ideas for lists.
As is common in the travel industry, Wander With Wonder sometimes receives complimentary products and services. Wander also earns income from ads and affiliate links on our site. Some of those links are for Amazon. As an Amazon Associate, Wander earns from qualifying purchases. None of these practices influence our reporting, but we believe in full disclosure. If you click an ad or affiliate link on our site and make a purchase, we may earn a commission at no additional cost to you. We thank you for your help - it is what keeps Wander bringing you great content. For further information please visit our
legal page
.
Tasting Wine and Cheese Guide
Discover ways to bring the flavors of the world home with Tasting Wine and Cheese: An Insider's Guide to Mastering the Principles of Pairing. This beautiful book shares some great cheese and wine pairings with practical advice to help you create your own pairings. The book has beautiful photos that set your mouth watering.
Moroccan Magic Organic Lip Balm
I'm picky about lip balm. It has to be smooth, never sticky, and it has to last. A good lip balm is a salvation on long flights, hot summer days, and windy winter afternoons. Moroccan Magic Organic Lip Balm is all organic, Made with Argan oil, sunflower oil, Vitamin E, organic beeswax, and natural oils. Each lip balm is cruelty-free, gluten-free, sulfate-free, and paraben-free. It is made by an all-women company in the USA. You can get them on Amazon in packs of three, five, eight, or ten.
Harney & Sons Dragon Pearl Jasmine White Tea
I am a tea drinker and have tried a lot of different teas. The Harney & Sons Dragon Pearl Jasmine White Tea is by far my favorite. It is a lovely, light tea. The fragrance of jasmine wafts through the air when you steep it. The tea is in little hand-rolled pearls with the essence of jasmine flowers. The pearls are then inside a little silk sachet. Each box includes 20 sachets. I never travel without a few of these tucked in my bag. It makes me feel comfortable, no matter what the circumstances. Let it steep for just a couple of minutes and sit back, relax, and feel the joy. These are lightly caffeinated and kosher. Buy your Harney & Sons Dragon Pearl Jasmine on Amazon.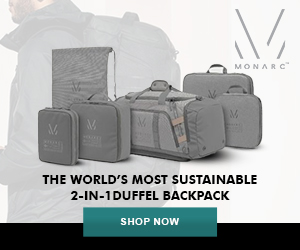 Gifts Under $100
You can pay less than $100 and still find one of my favorite gifts for travelers.
Kendra Scott Addie Drop Earrings
I adore Kendra Scott jewelry. I had the pleasure of meeting the founder a few years ago and love her story. Her jewelry is even better. These Kendra Scott Addie drop earrings can go from day to night, working with a variety of styles. I find the blend of silver and gold on the same pair make these a must-have for my travels. They have beautiful filigree and every pair comes in a little jewelry bag. You can get Kendra Scott Addie Drop Earrings on Amazon.
Fuchsia Flat Slippers
These one-of-a-kind handmade shoes are made to benefit those in the local communities where they are made. Fuchsia flats, made in Sangla Hill—a small town in Pakistan—are handcrafted with locally sourced materials. Techniques for the stitching of the traditional Khussa-style shoes date back centuries. Each shoe in the pair is identical, so your feet shape them to an appropriate fit as you wear them. Each shoe is made of natural leather (some vegan options also available). The top is hand-crafted Banarsi silk, which you often see used in Saris. The shoes have a rubber sole, padded footbed, and faux suede inner lining.
Delsey Comète 2.0 Limited Edition Carry-on Luggage
I love Delsey luggage and use it all the time. This bag is a great bargain anytime but with this BLACK FRIDAY deal, it is the time to buy. The 22″ lightweight carry-on spinner is ideal for the traveler in your life. The bag is 100% polycarbonate with double spinner wheels and a trolley handle. It is expandable if you buy more than you anticipated during your travels! It is available online and when you order through this link, you don't pay shipping costs.
myCharge HubPlus Universal Portable Charger
You won't ever find yourself with a dead battery when you carry the myCharge HubPlus Universal Portable Charger. This small little external battery (6700 mAh) slips in your bag or pocket and can charge up to three devices at once. Use the built-in plugs for iPhone or Samsung or plug any phone or tablet in using the built-in USB plug and your own cable. I never travel anywhere now without the myCharge portable charger.
Women's Convoy Fur 6″ Boot by Lugz
These study fur-lined boots by Lugz are ideal for walking those snowy city streets or kicking back aprés ski. They are warm and comfy, yet stylish. I find them ideal with leggings, jeans, or a skirt. They are not lightweight, not something to carry around, but comfortable for wearing all day. Available in black, white, or wheat. I have the black ones and I love them. Now available on Amazon.
Phoozy Insulated iPad/Laptop Capsule
The Phoozy lightweight capsule is ideal for your iPad Pro or 13″ laptop. It prevents overheating or insulates from the cold. The IP66 water-resistant material is ideal for keeping your electronics safe while you're on the go. I have it in Gold, but it's also available in Silver, Black, or Woodland print.
Gifts Over $100
For that special someone in your life, these gifts will last a lifetime.
Anson Calder Passport Wallet
The Anson Calder high-quality leather passport wallet is my favorite travel accessory. It is beautifully made and holds a passport, money, and up to eight credit cards. This is the only travel wallet I use and will last for years. The leather gets better with age. It is available from Anson Calder in your choice of six colors. An RFID version is also available. You can add a monogram as well.
Bose QuietComfort 35 II Wireless Bluetooth Headphones
I adore my Bose QuietComfort 35 II Wireless Bluetooth headphones. I have them in a limited release blue, but these beautiful rose gold ones are so very lovely. If you prefer, they are also available in black or white. These are comfortable, hold a charge for up to 20 hours, and cancel all that noise on an airplane. They are also Alexa enabled. If you really must, you can even answer your phone through the Bose headphones. Available on Amazon.
---
Note: Some of the links above may be affiliate links. Even though there is no additional cost for you, I do earn a commission if you make a purchase. I only recommend products that I know, use, and love myself.