Alpacas are beautiful, intelligent, and gentle creatures. They also have their own personalities. Pohopoco Creek Alpacas is about 40 miles north of Allentown, PA and offers a great family outing.
Submerged in a sea of terrible news: fires, floods, earthquakes, and finally, the Delta menace, my husband and I felt an overwhelming desire to escape, if only for a day. Because we are nature and animal lovers, the decision was easy: we would visit an Alpaca Farm! Off we went to rural Pennsylvania and the Pohopoco Creek Alpacas farm.
Arriving at the Alpaca Farm
At the end of a narrow, uphill winding dirt road off SR115, we drove into an open expanse. Overseeing a couple of large fields surrounded by split-rail wooden fences, an older wooden farmhouse perfectly fitted in these surroundings.
High-quality Alpaca products on Etsy

Alpaca Threadz by AlpacaThreadz
Mary Baxter, the owner, greeted us accompanied by her faithful feline, a cat with a lustrous black coat named BC, short for Barn Cat. Could you imagine a better reception committee for an alpaca farm?
As is common in the travel industry, Wander With Wonder sometimes receives complimentary products and services. However, you can always count on Wander With Wonder to report with honesty and integrity on those places we believe offer wonderful opportunities for our readers. Wander earns income from ads and affiliate links on our site. Some of those links are for Amazon. As an Amazon Associate, Wander earns from qualifying purchases. None of these practices influence our reporting, but we believe in full disclosure. For further information please visit our
legal page
.
Mary, my husband, and I got along marvelously from the start as if we had known each other for a long time. Mary has a friendly, outgoing, generous personality. She loves to share her all-encompassing knowledge of alpacas and encourages you to ask questions.
Impatient to see her alpacas, I was delighted when Mary said, "Come with me, I have some treats, and you can feed the alpacas." I had to restrain myself not to run.
Meeting the Alpacas
Alpacas are beautiful, intelligent, and gentle creatures. They also have their own personalities. Some like people and will come to you, and you can gently touch them. Although Mary said her alpacas don't like to be touched on the head. Other alpacas will keep their distance. If you get too close, they will look at you as if saying, "That's close enough." Yet others will first observe you, and if you meet their expectations, they will come to you. You will soon learn how to read them, just be respectful and ask Mary if you have any questions.
We had a chance to observe these different personalities, as one group stayed at the edge of this enclosure, busily grazing on grass, and totally ignoring us.
The other, outgoing group was all around us. They are utterly delightful animals with their long necks, rather skinny legs, and short tails. They have funny faces, with prominent eyes, and their mouths sporting a constant smile. The treats Mary had were small pieces of carrots. Do alpacas love them? They couldn't get enough!
Feeding the Alpacas
During our visit to the alpaca farm, I had so much fun feeding them.
I wanted to hug them but limited myself to gently touching their back. Alpacas will get really close to you but don't be afraid; just hold out a carrot, and they will grab it so gently, they won't even touch your fingers.
Life on an Alpaca Farm
Alpacas come from the Andes Mountains in South America at an altitude of around 14 to 15,000 feet. The change in elevation doesn't seem to affect them, but the climate does; they can get stressed out in our hot and humid summers. Mary keeps large ventilators in the barn where the alpacas can cool off a bit.
Mary sheers the Alpacas once a year, at the end of spring, so they feel cooler in summer and have time to grow their fleece back for winter. You might want to keep this in mind. When we went there towards the end of August, their fleece was still pretty short. I could tell by looking at their heads how sumptuous it will grow. I'm sure you would be delighted to sink your fingers in their deep, velvety, silky coat. It is soft beyond imagination.
The Alpaca Herd at Pohopoco Creek Alpacas
Today the herd has grown to twenty—18 females and two males. But when Mary started her farm eight years ago, she had only three female Huacaya alpacas, which is the required minimum as alpacas are herd animals and can't be alone. Also, they are prey animals, and there is safety in numbers.
"Safety in numbers" merits an explanation: The barn is always open, so the alpacas can come and go day and night as they please. Especially in summer, they like to sleep outdoors in one of the fields. This exposes them to possible attacks by coyotes or even dogs. Yes, dogs! The alpacas sense their proximity and emit a high-pitched, alert sound, like a hawk. They then pull together in a tight circle and stomp the ground. Usually, the predators just give up and leave.
BC, the cat, follows Mary wherever she goes, so he was also in the enclosure with the alpacas and us. Alpacas and BC totally ignore each other. Except for a three-week-old white baby alpaca who wanted to play with BC. No such luck. BC first hissed, and when this didn't dissuade the baby, he lashed out. But much to my amusement, the baby alpaca jumped backward fast as a ray, well out of reach of BC.
The Store at Pohopoco Creek Alpacas
Mary has the most delightful little store—a one-room wood cabin hidden in the forest. Stepping inside, I was dazzled by a treasure of alpaca products covering every inch of walls and shelves: sweaters, hats, scarves, gloves, socks in an array of colors, rugs, yarn, and more. Most items are available for purchase online.
My husband absolutely had to get a reversible hat, perfect for our cold winters. I fell in love with the cuddly baby alpaca teddy bears and standing alpaca figures made of the finest, luxurious fleece. I'm at a loss for words to describe how incredibly soft and silky their coats are.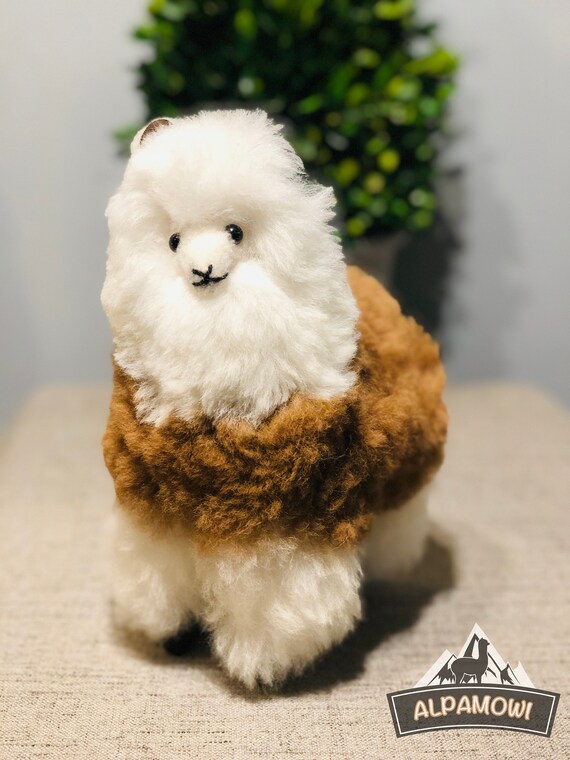 Handmade Alpaca Toy for Kids and Adults Perfect Soft Alpaca
from: Etsy
Guess who was the last to leave the store after making sure everything was in order? BC, the cat. It seems one of his many jobs is that of Inspector General.
Mary and BC walked us back to our car. And so ended a most delightful, wonderful day. We left happy as teenagers, rejuvenated, and at peace with the world.
National Alpaca Farm Days
Every year, on the last Saturday and Sunday in September (September 25 – 26, 2021), alpaca farms across the U.S. celebrate the National Alpaca Farm Days and welcome the public. Entrance is free, and no reservation is required. Check this website for opening hours.
This is a great weekend to bring your family and meet the alpacas, view demonstrations, learn about these beautiful, gentle animals, shop for alpaca products, and have a day filled with fun and new experiences.
Interesting Alpacas Facts
Here are a few interesting facts we discovered about alpacas:
Alpaca fleece is fire resistant. If exposed to a flame, it will only crackle but not catch fire.
Alpaca fiber is hypoallergenic, containing no lanolin. It also is water repellant, lightweight, and warmer than wool.
There are only two breeds of alpacas: Huacaya and Suri. Huacaya is the most abundant with a soft, fluffy teddy bear appearance with a defined crimp. The Suri, making up only 10% of the world's alpacas, has a smooth, shiny fleece hanging down in long twisted strings.
Alpacas have two toes with toenails on top and a soft pad on the bottom of each foot. This lets them be sure-footed in mountainous terrain while minimizing their effect on pasture land.
Alpacas' have a three-compartment stomach, allowing them to easily digest roughage-rich leaves, wood, bark, and stems.
More Related Articles on What to Do in Pennsylvania
Getting to the Alpaca Farm
Pohopoco Creek Alpacas is at 216 Merwinsburg Road in Effort, PA. This puts it about 40 miles north of Allentown or south of Wilkes-Barre. It is about 100 miles west of New York City and north of Philadelphia. This makes it an ideal day trip to experience the alpaca farm. Reservations are required and the entrance fee is $5. Be sure to explore Wander for more to see and do when you visit Pennsylvania.
Visit an Alpaca Farm in Pennsylvania: Pohopoco Creek Alpacas