Imagine, zipping through the canopy of a fir forest on your visit to the Portland, Oregon area. When you take a Zip Line tour, you'll gain an appreciation for the beauty of the forest from a whole new perspective… the tree-tops!
Pumpkin Ridge Zip Line Tour
It was a little chilly the day I had my first zipline experience. We headed west out of Portland for the Pumpkin Ridge Zip Line Tour in the middle of a beautiful Douglas Fir Forest. There was a short trail to the equipment shack and we were met by two smiling guides. Our group was a mixed one… young, old, experienced, and me… new at all this. We were invited to experience the course as part of a Portland-area media tour.
The guides gave a thorough briefing and personal attention to each of us as we buckled into the gear and donned our helmets. They also gave personal attention to our emotional needs. All of us were a bit nervous, to be honest, and they handled us well.
As is common in the travel industry, Wander With Wonder sometimes receives complimentary products and services. Wander also earns income from ads and affiliate links on our site. Some of those links are for Amazon. As an Amazon Associate, Wander earns from qualifying purchases. None of these practices influence our reporting, but we believe in full disclosure. If you click an ad or affiliate link on our site and make a purchase, we may earn a commission at no additional cost to you. We thank you for your help - it is what keeps Wander bringing you great content. For further information please visit our
legal page
.
As we walked, climbed stairs, and zipped, some of our group told horror stories of being on zip lines where they had to brake themselves and zip without a guide. At Pumpkin Ridge, safety was first. The guides were with us all the way and they took responsibility for slowing participants down as they neared the end of a zip line.
The participants were all made comfortable… but not too comfortable. After all, this was to be a thrill of a lifetime.
Pumpkin Ridge Zip Tour is the closest zip line tour to Portland, just a 35-minute drive west of the city. You'll drive down a country road and park in the beautiful woods.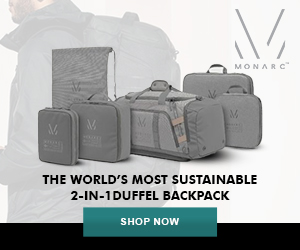 There are seven zip lines on the tour, plus three suspension bridges. The tour is designed to help those who might be a little scared work up to the big zips. Their first zip line is only 15 feet off the ground, accessible by an easy set of stairs.
As you progress through the tour, each line will gradually grow longer, faster, and higher. By the end, you'll be standing on a suspension bridge 120 feet high looking down at the tops of Douglas Firs. The tour is guided and the views from the Douglas Fir canopy are beautiful.
More Area Zip Line Tours
Our Wander writers enjoy adventure trips and we always recommend that you experience some of the outdoor opportunities when you visit a location. We have discovered that zip line tours are great fun—and can be exciting for the whole family. Of course, there are physical requirements, but tours can accommodate most everyone.
Here are a few of the other tours accessible from Portland, Oregon:
Skamania Lodge Zip Line Tour
At beautiful Skamania Lodge off SR 14 near Stevenson, Washington, you'll find a year-round canopy zip line tour, the Skamania Lodge Zip Line Tour. Skamania's guided zip line tour will send you soaring through the Douglas Fir forest in the heart of the scenic Columbia River Gorge.
You'll traverse seven zip lines, three sky bridges (includes a self-rappel), and enjoy stunning views. After your zipline tour, enjoy a meal or a drink in one of the lodge's dining rooms.
Scotts Mills–Camp Dakota Zip Line Tours
Scotts Mills–Camp Dakota Zip Line Tours is located less than an hour from both Portland and Salem. The zip lines at Camp Dakota are open to the public by appointment.
6 Line Tour: You'll start by climbing a 20-foot ladder up to a platform in a tree. The first zip line takes you high over a pond to a platform in another tree. From there you will zip from tree to tree through five additional zip lines.
10 Line Tour: After completing the first six zip lines, you will climb a 50-foot ladder up to a platform in a tree. From this platform, you will begin a trip through an additional four lines. These four lines are twice as high and much faster than the lines in the 6-line tour. The longest line in this series is approximately 600 feet and the highest point above the ground is approximately 70 feet in the air.
Tree to Tree Adventure Park–Gaston, OR
Tree to Tree Adventure Park is located in Gaston, Oregon, a short drive from either Portland or the Oregon Coast. Ziplines include a guided 1,280-foot Super Zip as part of their soaring adventure through the forest. You'll have an exciting time as you move along the Panama bridge and will enjoy views of Hagg Lake. They also offer an aerial obstacle course. Check out their Zip, Sip, and Stay package with their lodging partners.
High Life Adventures–Warrenton, Oregon
High Life Adventures is located in Warrenton, Oregon near Astoria, about a two-hour drive from Portland. High Life offers guided tours of eight zip lines in a beautiful setting. Join two tour guides on an exhilarating zip line experience around and over a seven-acre lake. The tour adds up to a mile of zipping. Watch their Facebook site for special events and cost savings specials.
Mt. Hood Adventure Park at Ski Bowl
At Mt. Hood Adventure Park at Ski Bowl, staff will harness you in before you take the steps up to the three-story tower and departure point for the 800-foot long zip line. You'll be sent zipping over the top of the park (at 50 feet). You'll have a beautiful view of Mt. Hood and the Mt. Hood National Forest. The unguided tour includes one zip line. This is but one adventure available out of 20 at the park during the summer season.
Before You Go on Your Zip Line Adventure in Oregon
Be sure and note the physical requirements and times to allow for the zip line experiences. Always call and make a reservation. Be sure to check out more suggestions, thanks to our Wander writers, for other things to see and do during your visit to Oregon.
---
This experience was part of a tour hosted by Travel Portland, Oregon's Mt. Hood Territory, and the Washington County Visitors Association – Tualatin Valley. While this has not influenced this content, the writer believes in full disclosure of all potential conflicts of interest.