There is something cathartic about train travel. And romantic. Railroad people have a passion and I've been fortunate in recent years to meet some amazing folks who have devoted their lives to railroads. So I was honored to be offered a ride onboard Rocky Mountaineer for their Journey Through The Clouds.
In today's fast-paced world where life can seem chaotic, this is one of those life experiences that gave me an opportunity to experience one wow moment after the next in what the Rocky Mountaineer hosts call "Kodak time". I sat back, relaxed, and experienced grandeur in a way that can only be seen from this luxury train as it wound its way from Vancouver to Jasper high in the Canadian Rockies.
What is Rocky Mountaineer?
Rocky Mountaineer is more than a train ride. It is a top life experience. It takes you from the West Coast of either Washington or Canada up into the Canadian Rockies. You experience the majesty of nature in a way you can't experience it anywhere else. The sights you see from the train aren't visible by car or bus or with a tour guide. Rocky Mountaineer offers an exclusive look at some of the world's most breathtaking scenery.
As is common in the travel industry, Wander With Wonder sometimes receives complimentary products and services. Wander also earns income from ads and affiliate links on our site. Some of those links are for Amazon. As an Amazon Associate, Wander earns from qualifying purchases. None of these practices influence our reporting, but we believe in full disclosure. If you click an ad or affiliate link on our site and make a purchase, we may earn a commission at no additional cost to you. We thank you for your help - it is what keeps Wander bringing you great content. For further information please visit our
legal page
.
I love the care that Rocky Mountaineer takes in helping customers plan their trips. There are so many options, so you can either call your travel agent or the company directly. They can customize an itinerary for you. If you are US-based, you might consider flying into Seattle and boarding the train there. Rocky Mountaineer will take care of border crossing for you while you sit back and relax.
I flew into Vancouver and spent a couple of days exploring the city. No, you don't sleep on the trains. You experience the scenery of The Rocky Mountains from the train, so you board early in the morning and spend an overnight at a designated hotel. You don't even have to deal with luggage. Everything is transferred for you. You simply get on the train and let the world float away.
Let the Rocky Mountaineer Journey Begin
Life is complicated. It seems we are all trying to squeeze a few more tasks into a few more hours. The journey is a great way to slow life down just a little and let someone else make all the decisions for you. We started out early in the morning from Vancouver.
The glass-dome windows on the GoldLeaf Service coach bring the outdoors up close. The hosts describe the scenery and regale you with just enough stories to intrigue you about the history of the railroad and Canada. They make you feel truly special.
The coach itself is luxurious. The leather seats are very comfortable. I discovered there were electrical outlets, USB plugs, more reclining options than I could use, and the seats were even heated. If you are traveling with others, the seats move so that groups of four can gather and chat. We turned our seats and it was a bit of a party from the start!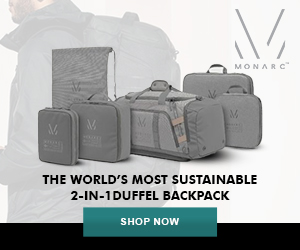 As we moved into the valleys just outside Vancouver, I headed downstairs and made my way onto the open-air vestibule.
The world took on a mystical feel. I took deep breaths of the air and probably said "Wow" a dozen times before we had traveled an hour away. We hadn't even gotten to the mountains and I was in awe.
Brilliant Landscapes on Journey Through the Clouds
Rocky Mountaineer's Journey Through the Clouds is a two-day excursion that moves gradually up in elevation. We journeyed alongside the Fraser and Thompson rivers. The train makes its way slowly past Hell's Gate—a narrow gorge with water thundering through it.  The journey changed from open fields to snow-covered scenery as we moved into the mountains on an early April day.
Another standout wow moment was Pyramid Falls, a 300-foot glacier-fed waterfall that flows to the Thompson River and is literally feet from the train. It's one of those moments that calls for "Kodak time" when the train slows to a crawl so guests can get some photographs—or simply stand in awe and capture the moment forever in your mind.
The build-up on day two of the journey is moving toward Mount Robson, the highest peak in the Canadian Rockies at just under 13,000 feet. It stands as a beacon on the horizon. My heart raced as I watched it. Such beauty. How could I not stop and take in the magic of nature?
Throughout the journey, the search is always on for wildlife—bears (I saw a mother and her cub on my first trip), mountain goats, deer and elk are plentiful.
I also enjoyed watching for birds. I spotted a few eagles and the massive herons seemed to take flight almost by accident. The hosts are great about alerting guests so you can get your cameras out. Of course, mine seemed always out!
Experience Your Own Rocky Mountaineer Journey
I adored the luxury of the GoldLeaf Service. Gourmet meals with tastes of Canada, someone anticipating my every need, and that scenery floating past are the stuff dreams are made of. It is a bucket list trip for a reason.
But the journey doesn't end when the train stops at Jasper. Create a circle journey to extend the train experience, book a car to explore the Canadian Rockies or perhaps book a cruise before or after the train trip. Rocky Mountaineer can customize your journey every step of the way.
I ended my stay at the beautiful Fairmont Jasper Park Lodge. I had time to walk around the lake, dine in the lodge, and relax in the spa.
I also booked a Jasper Highlights Tour through Rocky Mountaineer. That gave me an opportunity to see some of the breathtaking highlights all just moments from the hotel.
The entire Rocky Mountaineer experience was not only one of my top life experiences, it became one of those moments that defined my life. My Journey Through the Clouds onboard Rocky Mountaineer was filled with wow moments and gave me time to think about life, embracing the beauty and grandeur of the Canadian Rockies.
Book your own journey at rockymountaineer.com or call 877.460.3200. For more ideas for traveling in Canada, see these articles by Wander writers.
---
Note: As is common in the travel industry, the writer was provided with travel, accommodations, and meals for the purpose of review. While it has not influenced this review, the writer believes in full disclosure of all potential conflicts of interest.