I take off this weekend for a month-long sojourn across Europe. I packed in a carry-on suitcase and an under-the-seat tote. So many people have asked me how I packed everything I'll need that I decided I would share some of my best travel hacks—the tips and tricks that make packing and travel easy. I'm using a 21″ rolling bag and my Tumi tote that slides under the seat in front of me.
I will be spending a week with the International Wine Tourism Conference, starting off in Barcelona (where I am presenting at the conference), then exploring Costa Brava and surrounding areas to learn about Spanish Cava. From there, I take a train to Avignon and spend a week exploring Provence with my husband. After that, we take the train to Milan where I meet my sister while my husband returns home. She and I will be on and off trains in Italy and for a few days in Monaco. Then, I meet up with a small group of writers and photographers for a week exploring the Italian countryside of Tuscany and Le Marche.
With all of that running, I knew I needed to be extremely mobile. I would rather experience Europe than worry about how I'm getting bags from place to place. And really, how much do you need when it comes right down to it? Here are a few peeks inside my bag and some advice on how you can pack light, whether you're going for a long weekend or a month in Europe.
As is common in the travel industry, Wander With Wonder sometimes receives complimentary products and services. Wander also earns income from ads and affiliate links on our site. Some of those links are for Amazon. As an Amazon Associate, Wander earns from qualifying purchases. None of these practices influence our reporting, but we believe in full disclosure. If you click an ad or affiliate link on our site and make a purchase, we may earn a commission at no additional cost to you. We thank you for your help - it is what keeps Wander bringing you great content. For further information please visit our
legal page
.
Packing Hack #1: Use Packing Cubes
One of the best pieces of advice I can give anyone is to use packing cubes.
Take a peek inside my packed bag.
I suggest eBags packing cubes, available in a variety of sizes and colors. I've taken mine on every trip for the past five years and they are made really well, help keep me organized, and make packing so much simpler. When I get to the hotel, I usually place the entire eBag into a drawer to keep things clean and neat.
Notice that in my photo I have two eBag cubes on the right side and on the left, under the mesh zippered closing, I have another eBag. Let's look a little closer at what's inside.
Packing Hack #2: Get a Sturdy 1-Quart Bag
Notice the small plastic zippered bag in my suitcase? Those are my liquids and gels in 3-ounce or smaller containers. My biggest tip? Make certain you put EVERYTHING liquid or gel inside that bag. That means your toothpaste along with little packets of Woolite, mouthwash, shampoo, antibiotic cream. Everything. It has to be in the bag.
But the real tip here? If you haven't already done so, be sure to sign up for Global Entry. Global Entry is great because it gets you back into the US super fast when you are returning from overseas. However, even if you don't travel internationally all that often, it is totally worth the $100 charge for five years, because it also gives you TSA Pre-Check. That means you don't have to take those liquids out and put them on the conveyor. That's why I can pack that bag and forget about it. TSA Pre-Check also means I don't have to take my laptop out, shoes off, or jacket off. It's the best $100 I've ever spent.
Packing Hack #3: Roll Your Clothes
Roll your clothes. That's the single best tip I've ever received and it changed how I pack.
As you can see in this picture above, I use the left side of my bag, which has a mesh zippered cover over the entire thing, to store my cube containing my pants and dress as well as assorted other items I roll. I pack my coat over the rolled items next to the packing cube. It's folded and out of the way, but it's right on top for easy access.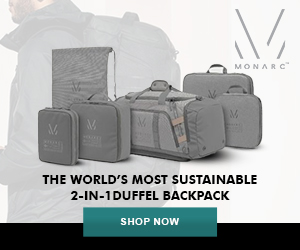 Inside the packing cube shown above, I packed three pairs of everyday travel pants (all black), one pair of dress black pants, one pair of yoga pants, and my black and white wrap dress.  Next to that is my pair of walking shoes. I recommend Berries by Aetrex. This is my third pair over the past decade. I have them in black. They have a bungee type string to tighten the shoe and the upper is made of neoprene with leather accents and a memory foam insole. They sell for about $100 a pair and last for years. The most comfortable walking shoes in the world. Hands down.
Next to the shoes, you'll see my swimsuit, a nightgown, and a stuff sack filled with socks.
Packing Hack #4: Be Color Coordinated
My next packing hack is to make certain your clothes are all color-coordinated and interchangeable.
Here you see my dress tops (plus a t-shirt that fit well in the spot). I have four long sleeve tops, two shells that can be used to layer under other tops or my sweater, and one 3/4 sleeve top. Notice, they are all rolled and won't need a lot of care when I arrive at my destination. I can also easily see exactly what I have with me simply by unzipping the case.
Travel Hack #5: Take Travel-Friendly Fabrics
Be smart about what types of clothes you choose for traveling. Not only do you want to think colors, but think about fabric choices.
This packing cube contains my casual tops. Two are short sleeve, two are long sleeve, one is a sleeveless shell I will pair with other things and two are 3/4 sleeves. Each of these can coordinate with a pair of solid black pants.
The other smart thing that might not be totally obvious here—these are all constructed of wrinkle-resistant materials that make them easy to pack. They are thinner than a traditional cotton or polyester shirt. They can be easily cleaned in a hotel sink. They can be worn a couple of times on a trip and I can layer them to adapt to changing temperatures.
I have some definite favorites for travel clothing. I definitely recommend the Columbia Women's Back Beauty straight-leg pants for casual travel pants. I have three of those with me. My dress pants are from Chicos. They are comfortable, look nice, are lightweight, and travel well. For shirts, I also prefer Chicos for my dressy shirts and I have two of the Columbia PFG Tamiami II long sleeve shirts. These are great shirts with UPF sun protection, water wicking to keep you dry and cool, snap closures, and roll-up sleeves to help you as the temperatures change. You can also find great travel clothes from Magellan's and REI.
Packing Hack #6: Pack an Expandable Bag
Especially when I travel to Europe, I always pack an extra, expandable bag just in case.
On the right side of my suitcase, I double the packing cubes, so if you raise up one, I have a pair of flip flops and wet wipes. On the other side, I have a smaller packing cube (for lingerie) and I always carry an extra bag. That's the bright-colored item in the photo above. It's a small pack that opens up into a full-sized duffle bag. Because you know you're going to have more coming home than you do when you leave.
I learned a trick long ago. I take up the extra room to pack that expandable duffle. Once I get off the plane and in Europe, I will unpack the duffle and use it for anything I pick up along the way. You know, bizarre salts and seasonings for my son, trinkets for my daughter-in-law, fun little things for the grandkids, and the things I find I can't live without. Since the return home doesn't mean I'm stressing over lost luggage, I check my bag on the return. That way, I carry the tote and the expandable duffle as my carry-on bags and let them check my suitcase all the way through. (Remember, you will have to retrieve it on your first stop in the US, but it's easy to just put it right back through after clearing customs.)
Travel Hack #7: Put Essentials in Your Tote
Be sure to take the essentials in your tote—and throw in a coverup for international flights. We've all heard those last-minute announcements at the airport about running out of overhead bin space. At any moment, they could check your bag for you, so be prepared. Make certain you put cables, medications, computers, phones, jewelry, and camera in your tote.
I made a last-minute change from the Delsey tote I had intended to carry to this one, a Tumi tote I've had for several years. I chose the Tumi because my Nikon and laptop fit better inside it than the two together fit into the Delsey.
Someone on social media mentioned that my totes look large. I think it's more the appearance in the photo. This tote fits under the seat in front of me, so it really isn't big. It holds all those essentials I mentioned, including a little cross-body bag with my wallet, passport, and money leaving plenty of room for my laptop, camera, cables, medication, socks for the flight, wet wipes, and this towel/throw I've shown in the photo.
This is actually an Egyptian cotton towel, known as a peshtemal, available online from The Turkish Towel Company. I opt for this rather than a traditional blanket because it is versatile. It is 40″ x 70″, so plenty big enough to use as a blanket on the plane. It is machine washable and I can launder it without worrying that it will be destroyed. Once at my destination, it can serve as a throw for a picnic in the park, can be used as a towel if I need one, or I could even throw it over my head or around my shoulders if I visit a temple, cathedral or the like.
Packing Hack #8: Wash Clothes on Extended Stays
Don't hesitate to use the laundry services in your hotel. There are some things you really can't wash in your sink. It's just easier to send the pants, sweaters, and tops out.
People tend to overlook those laundry services, assuming they're expensive. They really aren't expensive, especially if you consider you probably won't need to do this but once every ten days. And I'd rather spend $20 to have someone else do my laundry so that I can spend my time out exploring the Louvre or Great Pyramids. I can do laundry at home.
Packing Hack #9: Protect Your Credit Cards
Go online before you leave home and notify your banks that you will be traveling with your credit cards. The best way to do this is to visit the website for your cards and set a travel notification. I have honestly had problems with this when I tried calling the company. It never goes right. But if you go to the website and specify your dates of travel, it usually goes smooth and you'll be able to use your cards without a problem.
Remember, most of the rest of the world uses chip and pin cards. If you don't have a chip card, which most US banks are now sending out, call your bank and ask for a chip card to replace your current card. I do have an RFID blocking wallet that I use when I travel so that no one with one of those scanners can steal my personal information.
How you exchange money depends on several things. When I travel to Europe, I simply withdraw money from the teller machine. It's much easier than going through a cashier. If you use a credit card without a foreign transaction fee, this is a no-brainer.
Packing Hack #10: Activate Your International Phone Plan
Get an international travel plan on your cell phone. I use AT&T and they offer a pre-paid plan depending on your needs. For as little as $30 (which is good for any travels for up to a month), you get unlimited texts, some data roaming, and discounted calls. For this 30-day trip I'm taking, I opted for the larger plan.
However, even with an international data and talk plan, you must still be careful when you travel. Turn off notifications. Reset your count so you can track how much data you are using. While in hotels, hook up to the wifi so that it doesn't count against your plan. You probably don't want to do live-streaming data (as in Periscope) while you're on an international data plan. Just be smart and you can still use Google maps to find that little café you don't want to miss.
UPDATE: AT&T now offers a $10/day international plan, so I can use my phone just as I would in Europe for $10/day. That is in addition to your normal charges. This can be expensive on longer trips, so check into options.
With these tips, you can help make your travels much less stressful. The point of travel is to experience the things around you. There are way more important things in the world than having a different pair of shoes every day. For more travel tips, see these articles by Wander writers.