I hadn't visited water-wrapped Door County, Wisconsin in at least a decade. And we had spent very little time in the seaside village of Ephraim during that trip. I breathed deeply as I drove into Ephraim and my shoreline view became unobstructed. Boats of all shapes and sizes lined the waterfront and unusually warm breezes entered my open windows. I was excited to experience understated luxury and coastal views from my room at The Hillside Waterfront Hotel.
Landmark Property Receives a Facelift
The story of this iconic lodging property began when Norwegian immigrants, Martin and Maria Oleson and their family, purchased a log cabin from Reverend Andreas Iverson. They gradually added bedrooms, until their lodging became Hillside Hotel, by 1901.
From 2002 to 2010, Jim and Claire Webb operated the hotel following a massive renovation. Finally, local realtor Diane Taillon refreshed and reopened the property five years ago. This refresh includes extensive landscaping with assistance from an Art Institute of Chicago gardener. Two beautiful multi-bedroom cottages also offer welcoming accommodations for families or small groups.
As is common in the travel industry, Wander With Wonder sometimes receives complimentary products and services. Wander also earns income from ads and affiliate links on our site. Some of those links are for Amazon. As an Amazon Associate, Wander earns from qualifying purchases. None of these practices influence our reporting, but we believe in full disclosure. If you click an ad or affiliate link on our site and make a purchase, we may earn a commission at no additional cost to you. We thank you for your help - it is what keeps Wander bringing you great content. For further information please visit our
legal page
.
Listed on the National Register of Historic Places, The Hillside Waterfront Hotel is also a Select Registry property. In addition, the hotel appears in Condé Nast Traveler's pamphlet, The Best Resort Getaways from Chicago.
Understated Luxury at The Hillside Waterfront Hotel
Inside the main building of The Hillside Waterfront Hotel, a gorgeous wood staircase leads to five suites along a narrow hallway. My suite, the Mayflower Room, had fresh white walls, cornflower blue-accented window seat pillows, and fabric shades. Two blue wing chairs faced a gas fireplace and TV cabinet.
The dresser held a Keurig machine plus tea bags and bottled water. A small cutting board and covered knife sat nearby. A corkscrew laid near two small wine glasses.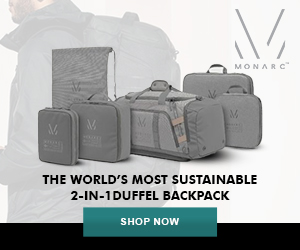 In the bathroom, a spacious shower featured a built-in seat. I found liquid soap, shampoo, and conditioner housed in both wall dispensers and miniature bottles. Makeup and nail polish wipes, a shower cap, and a nail file were other amenities.
I especially liked the suite's sliding glass and screen door. The adjoining porch spanned the entire hotel's width. Views of Ephraim's calm water beckoned each time I entered the room. There were even small towels designated for wiping down porch furniture.
At night, I lounged in a cozy robe while winding down. Then I slept amid luxury linens, with my windows and door open.
Beyond Guest Suites
On the main floor of The Hillside Waterfront Hotel, visitors can comfortably sit along the county's longest front porch. Across the lobby, an upholstered couch and chairs beckon guests to the spacious library. Dozens of books fill floor-to-ceiling shelves. And guests may enjoy breakfast on a nearby patio. It's served in a bright, airy dining room full of antique-style furniture and a brass chandelier.
With book-lined shelves, the library is cozy and inviting. Photo by Lisa Waterman Gray
Two beautiful multi-bedroom cottages also offer welcoming accommodations for families or small groups.
Eats and Drinks at The Hillside Waterfront Hotel
Available from 8:30-10 a.m., breakfast includes fruit, yogurt, locally made pastries, and granola, plus juice and coffee. Guests may also take breakfast trays to their rooms. Complimentary coffee and tea are always available in the library. Visitors may also request ice and buckets.
My balcony provided views of iconic dining destinations, too. One day, our group devoured burgers, fried cheese curds, home-brewed root beer, and enormous sundaes at Wilson's Restaurant & Ice Cream. The classic eatery has operated since 1906.
We also savored a Door County tradition begun by early settlers—the fish boil dinner. A sudden, tall burst of flame engulfed a cooking pot at the nearby Old Post Office Restaurant before servers piled plates with boiled white fish, potatoes, and onions.
Liquid butter, crisp coleslaw, and cherry pie à la mode completed the meal. Fish boils are a big part of reinventing Ephraim's early 1900s post office.
On my last evening at The Hillside Waterfront Hotel, I again viewed calm water, the quaint town, and the ever-changing sunset, from my porch. Photos will have to suffice until my next visit.
Be sure to check out what other Wander writers have experienced in Door County and as they travel throughout Wisconsin.