Christmas luxury starts with a thick, steaming cup of aromatic coffee. You can find the perfect Christmas present at Door County Coffee & Tea Co. in Carlsville, Wisconsin, brought to your home via online holiday shopping – or the beautiful showroom and cafe.
Door County Coffee & Tea Co. is a small family-owned business located on Wisconsin's famous Door County peninsula. The company roasts its own coffee and right next door is the coffee house/retail shop. The delicious aroma hits you as you walk in the door. You're in for a treat with lovely pastries to accompany some of the best coffees anywhere.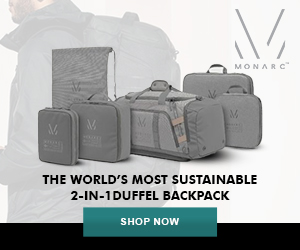 If you can't visit Door County this holiday season, you can bring a taste of Door County Coffee & Tea Co. home for the holidays. Holiday flavors, available now through December, feature favorites such as Butter Rum, Candy Cane, Door County Christmas, Egg Nog, Gingerbread, and White Christmas Coffee. The flavors are available in 1.5 oz pre-ground pillow packs or 12 oz. gift bags ground to your specifications. Samplers and gift baskets are also available.
As is common in the travel industry, Wander With Wonder sometimes receives complimentary products and services. Wander also earns income from ads and affiliate links on our site. Some of those links are for Amazon. As an Amazon Associate, Wander earns from qualifying purchases. None of these practices influence our reporting, but we believe in full disclosure. If you click an ad or affiliate link on our site and make a purchase, we may earn a commission at no additional cost to you. We thank you for your help - it is what keeps Wander bringing you great content. For further information please visit our
legal page
.
Call 920-743-8808, visit in Carlsville at 5773 Hwy 42 or go online to http://www.doorcountycoffee.com.
Door County Coffee & Tea Co.
PO Box 638
5773 Hwy 42
Sturgeon Bay, WI 54235 (store is in Carlsville)
800-856-6613
920-743-8808
http://www.doorcountycoffee.com/
Open 7 a.m. to 5 p.m. daily
Customer service by phone open 8 a.m. to 4 p.m. Monday through Friday