During a visit to Ann Arbor, Michigan, several years ago, I spied a tiny door on the outside wall of a downtown shop. Its threshold stood less than an inch from the pavement. Previous visitors had left pennies and a sterling ring below the magical entryway. An exquisitely detailed ceramic frame complemented the rustic-looking sage-green door. I couldn't wait to find another tiny entryway.
I saw the next fairy door inside Red Shoes Home Goods. Left slightly ajar, it revealed a fully furnished tiny room. Sunlight streamed through the window in another door, located at the back of the room.
These were only two of the Ann Arbor Urban Fairy Doors. The astonishingly detailed art has appeared (and disappeared!) throughout the city's urban core, for more than a decade.
As is common in the travel industry, Wander With Wonder sometimes receives complimentary products and services. Wander also earns income from ads and affiliate links on our site. Some of those links are for Amazon. As an Amazon Associate, Wander earns from qualifying purchases. None of these practices influence our reporting, but we believe in full disclosure. If you click an ad or affiliate link on our site and make a purchase, we may earn a commission at no additional cost to you. We thank you for your help - it is what keeps Wander bringing you great content. For further information please visit our
legal page
.
The first public fairy door mysteriously showed up on the exterior of Sweetwaters Coffee and Tea. It's the work of 'fairyologist' and artist, Jonathan B. Wright. The lifelong Ann Arbor resident and University of Michigan alum also posted a sign near the door. It read "Please Do Not Feed the Fairies. They will get lazier, and no longer (steal) forage, for themselves. Besides, the ants like the stuff as much or more."
The Earliest Ann Arbor Fairy Doors
But this magical phenomenon didn't begin in the downtown area. The first fairy door actually appeared in the baseboards of Jonathan and Kathleen Wright's home, during 1993. Seeing the excitement of children who attended Kathleen's in-home preschool, Jonathan added more doors. During their childhood, the couples' daughters spent many hours searching for doors at home with their friends.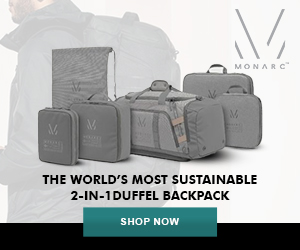 Jonathan's longtime love of fairies from children's tales and the Irish lore from Kathleen's heritage infused his whimsical creations. He eventually turned his attention to Ann Arbor's then-sleepy downtown area.
Dozens of Jonathan's doors have enhanced the urban core since that time. With the completion of each new public fairy door, he invites onlookers into a magical, imaginary world. Searching for the Ann Arbor fairy doors provides momentary respite from the daily grind.
But the fame of these doors has gone far beyond local lore. The Washington Post and the Associated Press, plus National Public Radio and the BBC have written about Jonathan's creations.
Where Are the Ann Arbor Fairy Doors?
Jonathan listed eight easy-to-find fairy doors scattered throughout the downtown area in August 2017. Others require a bit of searching. They included (as of August 2017 and may change at any time, making it part of the intrigue):
Inside Nicola's Books where two, door-height book spines flank a chocolate-colored wood door and woodwork
At The Michigan Theater where a miniature pair of mostly glass doors, with a glass transom, mimic the much larger human entrance
In the Folklore and Fairytales section of Ann Arbor District Library, where an illuminated teal double door perches three shelves above the floor, just the right height for young children to gently touch it
Fairy doors have appeared inside Mott's Hospital and in the 'Ann Arbor (conference) room' at Google. A rustic wood Field of Dreams Fairy Door briefly stood amid a tall grassy field in nearby Dexter, Michigan. It disappeared as quickly as it arrived.
When the fairies set themselves up inside the Peaceable Kingdom gift shop, they meticulously stocked the miniature store beyond their front door. At various times, visitors saw plastic springs, seashells, and a crawfish claw, inside.
What's Next for the Ann Arbor Fairy Doors?
Jonathan has never made money from creating the fairy doors, themselves. But there's a poster available, depicting numerous doors. He also revised his book, Who's Behind the Fairy Doors?, after a successful Kickstarter program. You can also order fairy door postcards, sweatshirts or giclée prints from the website.
Today, the Ann Arbor Area Convention & Visitors Bureau offers a free fairy door map plus copies of Jonathan's book. His website also lists current fairy door locations at https://urban-fairies.com/TOURMAP.html  or you can download the PDF here.
Sometimes when you wander, the tiniest moments can lead to wow moments. That is definitely the case when you discover the Ann Arbor fairy doors, and finding them is part of the fun.
Be sure to check out more of what our Wander writers suggest doing when you visit Michigan.