In Door County, summer is short and sweet. So short that chain hotels don't want to build here, so the "Cape Cod of the Midwest" remains delightfully full of Mom and Pop businesses. So sweet that this Wisconsin peninsula sticking out into Lake Michigan like an injured thumb has been drawing devoted visitors for many decades. Here are 7 ways to experience the best of Door County this summer.
Kayak Lake Michigan
Lake Michigan is so gigantic I kept thinking it was the ocean. If you're used to small bodies of water, it might feel intimidating to take a kayak out into Lake Michigan. But that's where a trusty guide comes in. Dillon Adams led my small-group tour from the Door County Adventure Center in northern Door County.
After paddling around a point, we left the lake for the Mink River estuary. About 200 bird species pass through annually. We saw egrets, pelicans, terns, a hawk, and the endangered Hine's Emerald Dragonfly. The Mink River is the last of the ancient rivers that used to flow across Door County.
As is common in the travel industry, Wander With Wonder sometimes receives complimentary products and services. Wander also earns income from ads and affiliate links on our site. Some of those links are for Amazon. As an Amazon Associate, Wander earns from qualifying purchases. None of these practices influence our reporting, but we believe in full disclosure. If you click an ad or affiliate link on our site and make a purchase, we may earn a commission at no additional cost to you. We thank you for your help - it is what keeps Wander bringing you great content. For further information please visit our
legal page
.
Climb Old Baldy
For all those hikers who like to brag about "bagging peaks," I'm proud to say I've bagged Old Baldy, the highest dune in Whitefish Dunes State Park. Yep, I climbed 93 feet above lake level to accomplish this dramatic feat, and I have the photos of me on the observation platform to prove it.
Whitefish Dunes State Park has 14.5 miles of hiking trails, songbirds, and Native history dating back to 100 BCE. It's a lovely park and very pleasant if you like undemanding hikes through the forest or along the shore.
Try Your Pit-Spitting Skills
Here's a sport you might not have tried: Cherry pit spitting. Lautenbach's Orchard Country is a cherry orchard that makes wine, hard cider, specialty foods, and runs a big country store. But out back is where the action is—on the pit spitting grounds.
"The cherry spit has been there for 30 years," Chris Lautenbach, production manager of the wine bottling area, told me. "It was gimmicky at first, but people love it."
They love it so much that every year on the third week in July, people compete in a cherry spit championship. The records are 38 feet for women, and 48 feet, 3 inches for men.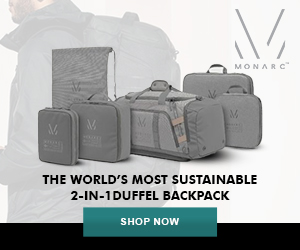 I got some tips from Jon Jarosh, Visit Door County's director of communication and PR, about cherry spitting technique. First of all, you need to eat all the flesh from the cherries. If your pit's not thoroughly cleaned off, Jarosh warns, "That creates drag." People who are genetically able to roll their tongue have an advantage. "You can use it as a launching pad." You can also take advantage of weather conditions. "There's a breeze behind us," Jarosh said as we stood on the cherry spit ground.  "We might get five more feet. Rolls count."
Glide on a Segway
Nick Dokolas built his Segway tour company on faith. A few years after Segways came out, while Dokolas was an elementary school teacher in Bakersfield, California, he read a magazine article about somebody giving Segway tours in Los Angeles. He thought, "That's what I want to do!" At that point he had never ridden a Segway. But his wife was from Sister Bay, so Dokolas was familiar with Door County. He knew it would be the perfect place for Segway tours.
In 2005, he launched Segway the Door with 11 Segways. Thirteen years later, he's expanded beyond Door County into Green Bay and Fox Cities, and offers many tour options.
I joined Dokolas on a special cherry harvest theme tour.  It was my first time on a Segway and I felt pretty rickety at first. But after a few minutes I got the hang of it. We started on nice, blacktopped roads, then graduated to gravel. Within an hour, we were confident enough to ride through a cherry orchard, picking cherries and eating them as we went.
If I ever get to tour with Segway the Door again, I'd like to take the half-day Washington Island tour, which includes riding a Segway onto a ferry boat.
Visit a Door County Lighthouse
The last few years, Lake Michigan has been high. So the causeway that attaches Cana Island to the peninsula is submerged. The water is not very deep – only a foot or two – but the zebra mussels and rocks are sharp on bare feet. Fortunately, you can board a tractor-pulled wagon to take you to view the Cana Island Lighthouse, built in 1869.
The view from the top of the lighthouse is the highlight of visiting Cana Island. Climb the 97-step spiral staircase and you'll get to the scenic, wild, windy top, with a 360-degree Door County view. Wear sensible closed-toe shoes. And learn from my mistake—don't wear a dress.
Watch an Outdoor Play
Door County has several outdoor theaters so you can watch plays under the stars. Northern Sky Theater specializes in family-friendly musicals. Many are set in the Midwest. You can always expect excellent singing, dancing, lots of jokes, and a happy ending from a Northern Sky production.
Door Shakespeare produces, you guessed it, Shakespeare plays, in a magical outdoor setting. They offer occasional pre-show lectures, wine nights, and family activities as well as the classic plays.
The Peninsula Players claims the distinction of being America's oldest resident summer theater, dating back more than 80 years. This is a regular enclosed theater, but the walls slide up when the weather is warm enough. Before the show and during intermission, theatergoers get a drink in the lovely wooded garden that overlooks Lake Michigan.
Play a Round of Mini Golf
When I was a kid, my sisters and I used to fantasize about designing mini golf courses. We even tried to build one in the back yard, burying coffee cans as holes. The Red Putter in the village of Ephraim might be my dream mini-golf course. First of all, it has nice Door County-type décor, such as lighthouses and a little white church. Second, it has weird stuff, like a huge badger guarding a hole. Each hole offers a rhyming poem to help golfers navigate the hole.
Every year the Red Putter hosts a pro tournament with a cash prize and big trophies. While par is 42, you need a 34 to qualify. Last year a 17-year-old won. He'd played the course all summer.
Want to know more? The Red Putter – and lots of other special courses – is featured in the mini-golf documentary Through the Windmill.
What If It Rains?
All this outdoor stuff is fun, but what if thunderclouds gather over your hiking trail, or an evil wind ruins your kayaking plans? Then you head for Hands On Art Studio. It started 20 years ago as a small make-your-own pottery business in Cy Turnbladh's apartment. "Now it's more than 8,000 square feet of play space for the general public to pop in and be an artist," says Karon Ohm, Turnbladh's wife and partner in Hands On.
About 25,000 people a year visit Hands On to make mosaics, glass art, metal sculptures and other art projects. I've visited on two separate trips. Once I designed a glass sculpture for my garden, the second time I made a huge mosaic stepping stone. In both cases, I did the easy part—laying out the project as I wanted—and they did the hard part of fusing the glass or grouting the stone. Then they shipped the finished product to me a couple of weeks later.
Don't think you're an artist? No problem. "We exist because of customers who don't think they're creative," Turnbladh said.
So stroll a cherry orchard. Climb Old Baldy. Dip your toes in Lake Michigan – or go for a swim if you're really brave. Enjoy everything the short, sweet Door County summer has to offer.
Be sure to check out Wander for more about what to do in Wisconsin—Door County and beyond.
---
Note: As is common in the travel industry, the writer was provided with accommodations, meals, tours, and other compensation for the purpose of review. While it has not influenced this review, the writer believes in full disclosure of all potential conflicts of interest.