Packing luggage is becoming more challenging. With hidden airline fees and luggage restrictions, it can be stressful to pack for a trip. When packing for a trip, whether a weekend trip or months abroad, every inch of your suitcase is precious real estate. Here are seven life-changing luggage hacks that take the headache out of your trip.
1—Roll Your Clothes
It might make sense to fold your clothes in your suitcase the same way you would fold them at home. This actually takes up a lot more space in your suitcase! Instead, roll your clothes. Take your time to roll them carefully to prevent wrinkles. Place your firmer materials on the bottom, like jeans and jackets. On the top of your suitcase, add your shirts and flimsier materials which are more flexible.
2—Pack an Extra Bag
Nothing is worse than mixing your dirty clothes with your clean clothes. While traveling, it's hard enough to keep things organized in your luggage. Pack an extra tote bag or a laundry bag to help separate your dirty clothes and prevent it from ruining the rest of your wardrobe.
As is common in the travel industry, Wander With Wonder sometimes receives complimentary products and services. Wander also earns income from ads and affiliate links on our site. Some of those links are for Amazon. As an Amazon Associate, Wander earns from qualifying purchases. None of these practices influence our reporting, but we believe in full disclosure. If you click an ad or affiliate link on our site and make a purchase, we may earn a commission at no additional cost to you. We thank you for your help - it is what keeps Wander bringing you great content. For further information please visit our
legal page
.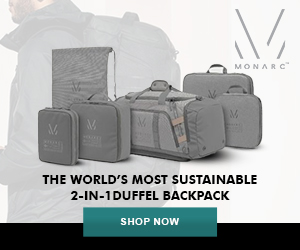 3—Wrap Your Shoes
Nobody likes to pack their sneakers with their evening wear. Plus, after a long day of exploring, the last place you want to put your worn shoes is in your suitcase with your fresh smelling clothes. Avoid any suitcase smelling nightmares by wrapping your shoes in a shower cap or an old bag. This will keep them from touching your other clothes without taking up any extra space.
4—Follow the 2 to 1 Rule
If you're the kind of person who struggles when deciding how much clothing to bring on a trip, try the 2 to 1 rule. This rule basically states that for every pair of pants you bring, pack two shirts. You're more likely to wear the same pair of pants several times whereas you'll wear a shirt only once. Pack a variety of different types of bottoms like jeans in different washes so you can make different outfit combinations from your limited wardrobe.
5—Ship Your Luggage in Advance
If you're traveling for a long time or you have a large amount of luggage, you should consider shipping your luggage in advance. A service like Uni Baggage will ship your luggage internationally in advance so you don't have to worry about it. This is a great way to avoid airline shipping costs and restrictions, and you won't have to bother waiting for your luggage once you arrive in your destination.
6—Store Breakables in Socks
Your clean socks make a great protective layer for your breakable items like perfumes or glass bottles. You can easily stash these filled socks in between other clothing items like jackets or a coat to add even more protection. Just to be safe, wrap your bottle in a plastic bag or wrap to prevent spills in case a break does happen.
7—Wear Bulky Items
Avoid packing bulky items in your luggage when possible since it can take up an unreasonable amount of space. Instead, opt to wear boots or carry coats with you while you travel. If a bulky item must be packed, choose items that are collapsible or can be folded if necessary to save space. Sun hats, for instance, can often be rolled and tucked into the side of bags.
Life-Changing Travel Hacks
Traveling is stressful enough without the added headache of packing your luggage just the right way. With increased airline limitations and restrictions as well as the high costs of travel, it pays to try these life-changing travel hacks to save space and make things easier any way you can. Always be sure to weigh your luggage to avoid unexpected fees at the airport, and shake your luggage around to make sure your belongings are secure inside. Packing your luggage doesn't have to be complicated!
---
This is a sponsored article. Wander With Wonder provides content from sponsors we believe can offer great service to our readers.