It's been a rough year. We're all thinking about it! While I would love to be lounging around on the beaches of Italy or visiting Okinawa, I and virtually everyone else has been stuck at home due to the COVID-19 pandemic.
I would be lying if I said I wasn't a bit travel-sick—yearning to explore the world once again. But what if I told you that you could explore the world from home? It sounds crazy, I know, but you can! And if you're reading this, then you're probably in the same boat. Today, I want to tell you about six ways I have tided myself over during the pandemic. If you're feeling the need to travel but can't due to COVID restrictions, don't worry—I made these virtual travel tips just for you!
6 Ways to Explore the World Virtually
Here are my favorite tips for virtual travel, all from the comfort of your own home.
1—A Virtual Reality Headset
I love my Oculus Quest 2. I got it a little bit before the pandemic, so I didn't have to go through a scalper to get one. But when the pandemic started, finding an Oculus headset was just as hard as finding a PlayStation 5 now!
Wander With Wonder contains affiliate links and we sometimes receive complimentary products and services for review. While it has not influenced this review, we believe in full disclosure. If you click through and make a purchase, we may earn a commission, at no additional cost to you. We thank you for your help — it is what keeps Wander With Wonder bringing you great content.
But demand has settled, and for around $300, you can get the Oculus Quest, a wireless virtual reality headset. But why should you get one? Let me start by saying that there are tons of games centered around exploration. One example is The Climb (and its soon-to-be-released sequel). You climb mountains in various locations in it, and while it's not realistic, it is very fun.
Plus, dozens of apps and 360-degree videos take advantage of VR headsets to give you an immersive experience as you virtually explore landscapes and cities. Speaking of virtual exploration, let's talk about museums.
2—Virtual Museum Tours (And Cruises)
Me and museums go together like peanut butter and jelly. I always find myself fascinated by what museums, both locally and nationally, have to offer in terms of knowledge, wonder, and experience. So, imagine my disappointment when the pandemic struck, and all museums decided to close until further notice.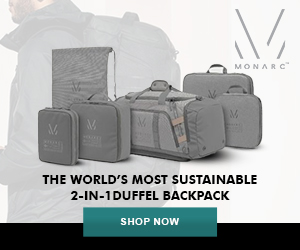 Fortunately, many national museums across the globe offer virtual tours. These virtual tours aren't as in-depth as going to the museum in person, but that's not an option for many of you and me.
Virtual tours only require a stable Internet connection, and an hour or two, as it's easy to get immersed in these virtual tours.
3—Netflix
I've always felt that blockbusters overlook Netflix's travel-related offerings. Sure, a travel documentary may not have the exciting, heart-racing thrills of Stranger Things, but Stranger Things isn't going to help me get over my lack of trips this past year.
The truth is, there are plenty of travel documentaries and shows dedicated to exploring the world. Listing them here would take too long, but there are a plethora of recommendations available online. Beware, however, that not all travel shows may be available in your area. If not, don't worry. I've been in the same situation, and using a VPN service has allowed me to access any show I want. You can do the same!
4—Interior Decorating
Online shopping has been a godsend throughout this entire pandemic. My paranoia would be on full alert if I were forced to go to the grocery store in person. But did you know that online shopping not only helps you get your groceries but can help you explore the world? Sort of?
One of the best ways to soothe your longing for exploration is by decorating your home with various knick-knacks, antiques, and furniture from other countries. Not only would this give your house some style points, but it will also help you feel like you're exploring tiny parts of the world, all without leaving your house.
5—Google Earth
In the early 2000s, Google released Google Earth, a browser-based application that allowed users to explore the world via rendered 2D images collected by satellites. Why? Because it's mindless fun! I have probably sunk tens of hours into it since the pandemic.
With Google Earth, I can go anywhere in the world! Tokyo, Paris, Canada: nothing is off-limits! Sure, Google Earth doesn't sport the prettiest renders, but it's good enough to explore when you're bored.
6—Online Cooking Classes
I love cooking. Do you? If you answered yes, then why not participate in a couple of online cooking classes?
The beauty of online cooking classes is that you can pick and choose which classes you want to take, including what type of foods you want to learn. If you like traveling and cooking, you can focus on international foods. Preparing those dishes will help you explore the world. You know, through food!
Conclusion: Explore the World with Your Computer
Countries are slowly beginning to ease their lockdowns and allowing people to travel again. I've been waiting for this day for an entire year, and I'm sure you feel the same way. That said, many of us are not going anywhere for a while still. Until then, Netflix, Google Earth, and Oculus are here to help us travel-sick tourists see the world through a virtual lens. Check out more suggestions on Wander for virtual travel tips and be sure to see our favorite destinations so you can begin to make travel plans for the future.