Join Southwest Wildlife Conservation Center this fall for a series of interactive and fun experiences and classes all while raising money for an incredible cause.
First, enjoy a 4-week series painting class with local artist April Howland where you will learn to paint some of the wild residents. Howland will offer activities and coaching as you work on your pieces. Bring your own art supplies and easels. Sit and relax and become one with your art. All skill levels welcome. Pencil, watercolor, acrylic and oils are all welcome. Artists are encouraged to work on several pieces over the course of each class time as animals are free to roam their cages and cannot be counted on to pose for too long! The series costs $200 and begins October 23rd and will be held every Monday for four weeks.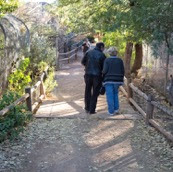 Then it's time for a real treat with the fourth annual Howl-O-Ween. Dress up in your favorite costume, bring your kids, and go trick-or-treating among the real wild ones. This is a self-guided adventure with family-friendly surprises around every corner. It takes place on the evening of October 27th from 5-8 pm. This event always sells out, so register quickly!
As the weather cools down, Southwest Wildlife Conservation Center is also starting a fall schedule with more opportunities to sign up for a guided tour. Take a walk around the sanctuary with an experienced guide who can't wait to share each animal's story! In addition to our adult residents, we currently provide homes for both a juvenile bobcat and coyote that are exciting to watch as they explore their new world. Come and see them before they grow up!
"We have both day tours and full moon tours. We are a non-profit organization, and our sanctuary animals are fed and taken care of through your tour registrations and donations. We hope to see you soon," said Nikki Julien, dir. of Southwest Wildlife Conservation Center.
Painting Our Wild Residents
https://www.southwestwildlife.org/visit-us/event/2017/10/23/1508778000/-9-am-drawing-and-painting-the-animals-of-southwest-wildlife-with-april-howland/167887

Painting Class with Local Artist April Howland
4-Week Series
Dates:
Mondays 9:00 am-12:30 pm
Starting October 23rd, 2017
Cost: $200/person for entire 4-week series
Howl-O-Ween
https://www.southwestwildlife.org/visit-us/event/2017/10/27/-5pm-howl-o-ween-party/170404
Join us for Trick-or-Treating, Apple Cider, Snacks and Wild Fun!
Costumes Encouraged
Date: October 27th 5-8 pm
Cost: Adults $25;
Children (3-12 yrs) $20;
2 and under free
Event sells out every year, register quickly!
Schedule a Tour
https://www.southwestwildlife.org/visit-us/
Walk with Wildlife
Tues 2 pm;
Wed-Thurs 10 am & 2 pm;
Fri-Sat 10 am, 1 pm, 3 pm;
Cost: $25/adult;
$15 Children (3-12 yrs);
2 and under free
Full Moon Tours
Evenings: Sept 6th, Oct 5th, Nov 3rd, Dec 2nd
Cost: $30/person
Check online schedule as calendar may vary
This post is shared as a courtesy! If you are interested in partnering with Wander With Wonder for coverage of an upcoming event or opportunity please contact us.