Summer is here at Southwest Wildlife Conservation Center (SWCC) and that means the kick-off of special programs and unique tours. Southwest Wildlife Conservation Center rescues and rehabilitates wildlife that has been injured, displaced, or orphaned and rehabilitates them to be released back into the wild. SWCC invites you to join in the fun this summer with an array of activities to choose from!
Tours and Special programs this summer at SWCC include:​
·       Walk with Wildlife tours – See mountain lions, black bears, bobcats, foxes and more on Tuesdays, Wednesdays and Thursdays at 9 am and Fridays and Saturdays at 8 am and 10 am
·       New Moon tours – Sneak a peak at desert animals that beat the heat by being active at night on June 24th, July 22nd, and August 21st from 7-9 pm
·       Full Moon tours – If you're lucky, hear a serenade from Mexican gray wolves on July 8th and August 7th from 7-9 pm
·       Bug Out! program – Tour the sanctuary and get a close up look at some of the insects and invertebrates that inhabit the Sonoran desert on July 28th from 7-10 pm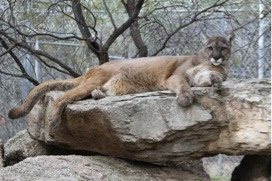 ·       Bat Netting program – Capture and identify local bat species and meet these misunderstood and fascinating creatures on August 19th from 7-10 pm
"New animals are arriving on a daily basis, many of which are almost ready to be released into the wild. We have several baby skunks, raccoon kits, bobcat kittens, coyote pups, and javelinas. We even have a bullfrog with a wounded leg we found on this very property! There is never a dull moment here at SWCC and we are excited for the launch of summer programs and tours," said Linda Searles, executive director of Southwest Wildlife Conservation Center.
Guests must pre-register online for all tours and special programs – evening tours fill up fast! Visit SWCC online for more information and to make reservations http://www.SouthwestWildlfe.org or call (480) 471-9109.
For media inquiries please contact Jennifer Parks at 480.495.3806 or by email at Jparks@rosemoserallynpr.com.
About Southwest Wildlife Conservation Center
Southwest Wildlife, accredited by the American Sanctuary Association (ASA), rescues and rehabilitates wildlife that has been injured, displaced, and orphaned. Once rehabilitated, they are returned to the wild. Sanctuary is provided to animals that cannot be released back to the wild. Linda Searles officially founded Southwest Wildlife Conservation Center in 1994. Since then, SWCC has rehabilitated thousands of sick, injured, orphaned or displaced wild animals. More than 70 percent have been successfully released back into the wild. Specially trained staff and volunteers are on call to respond to any wild mammal emergency that may arise.
This post is shared as a courtesy! If you are interested in partnering with Wander With Wonder for coverage of an upcoming event or opportunity please contact us.